As a licensed financial professional, one of the companies I can see whether they make sense for my clients or not is Athene. They wrote an article and I wanted to share the fine points of it here.
"With many people wanting more time, more money, or more sleep, it's a concept most of us are far too familiar with. But do we consider how "more" relates to retirement?
No doubt you've thought about your own retirement — what you're looking most forward to, how much money you'll need, and the best way to build your nest egg so you can retire how you want to. In other words, you know what you're looking for more of when you stop working….
It is, and it turns out the concept of "more" may be one key to helping people create better retirements. At this age, retirement is more than the end of a job. It's about the beginning of life's best work. Helping clients identify the people, places, and activities they want more of can be a key to finding happiness and a new sense of purpose after they stop working.
The idea of retirement is as unique as each individual is. Some can't think past throwing away the alarm clock. In your 30s and 40s, retirement can seem so far in the future that it's difficult to picture anything besides going to work every day. For others, it's difficult to picture retirement life because they know factors out of their control could change their situation.
Still, others may have a better idea of what they want life's next big chapter to look like but creating an actual blueprint for it may not be as easy as daydreaming about it.
In any event, making a clearly defined plan for post-career life may seem premature. But the more you can picture your ideal retirement and articulate it, the easier it will be to create a financial strategy to make your plans materialize.
And with today's more active lifestyles, rising costs, and potentially longer lifespans, it also means more complex financial needs, including guaranteed income and savings that need to grow and potentially last longer."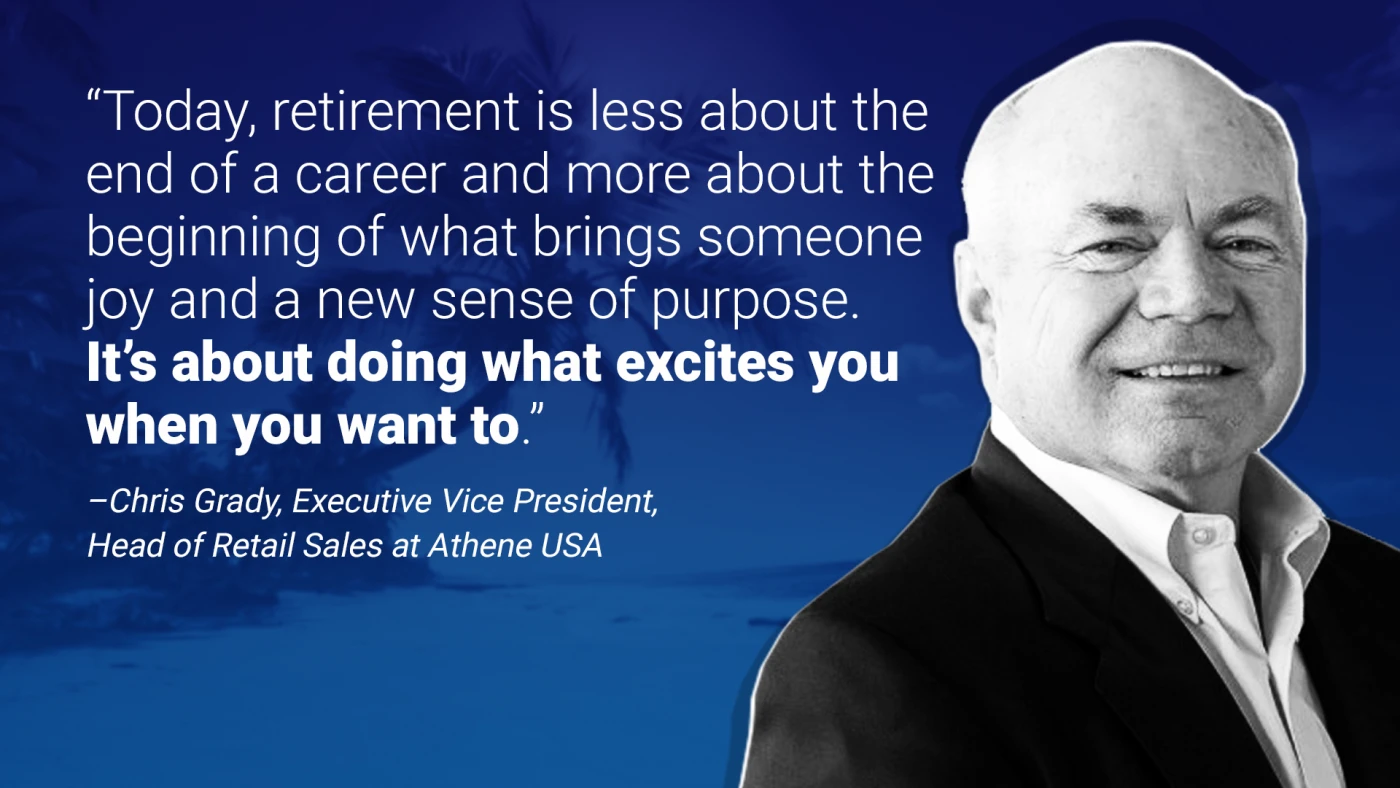 I'm happy to put together plans for those I meet with to meet your retirement goals and dreams and not just from Athene. Let's see what I can come up with for you when we meet and chat over zoom sometime. More information is on the Contact Us link or the Get In Touch button above.